On June 23, 1958, Tony Vargas Sr., along with his wife Lydia and children opened Tony's the Pit Bar-B-Q for business. The family ran the restaurant from the original location at 1829 Magoffin until 1969, when it moved to it's the current location at 1700 Myrtle Ave. Tony Jr. ran the business from 1970 until 1995 when he retired and he is currently employed with El Paso Community College as tenured faculty. Grandson Bobby operated the restaurant until late 1999.
The management of Tony's the Pit Bar-B-Q is under the leadership of Christina Vargas, granddaughter of founder, Tony Vargas Sr.
Christina Vargas has been managing the business since 1999. She has learned every aspect of the business from marinating the meat to slicing it for the customer's personalized sandwiches like her grandfather, father and brother have done. Under her management there has been a steady growth in sales despite the economy and exodus of downtown businesses.
Christina's dedication to quality and preservation of a family tradition welcomes you to come and visit her and taste Tony's Bar-B-Q as it has been prepared and cooked for over 50 years.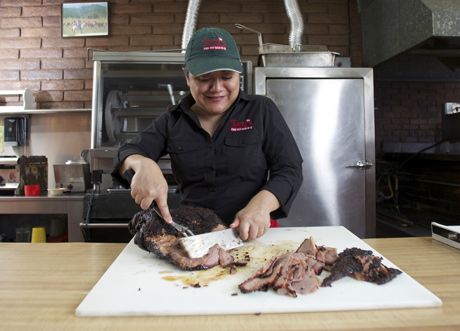 Christina Vargas preparing delicious food for our customers... mmmmm!